Sponge Cake with Mascarpone Torta Paradiso con Mascarpone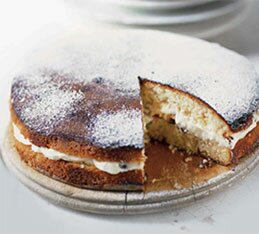 Serves 4/6
250g butter, jut melted but not oily, plus extra to grease
250g caster sugar
4 large eggs, beaten
1 tsp vanilla extract
225g self-raising flour
25g cornflour
1 tsp baking flour
To Serve
300g mascarpone cheese
50g caster sugar
Few drops of vanilla extract
3 – 4 tbsp raspberry jam
Icing sugar to dust
Rich, creamy mascarpone comes from southern Lombardy and it is the ideal filling for this wonderfully light sponge.
Heat the oven to 180 C/ Gas 4. Line a 25cm shallow round cake tin with baking parchment and grease with a little butter.
Using a balloon whisk, whip the melted butter into sugar until light and fluffy, then slowly neat in the eggs and vanilla. Gradually sift the flour, cornflour and baking powder together over the mixture, carefully folding it in with the balloon whisk. Pour into the prepared tin and bake for 20 – 25 minutes until golden and springy to the touch.
Turn out and cool on a wire rack, then cut horizontally into two layers. Beat the mascarpone with the caster sugar and vanilla extract until smooth. Spread the jam over the bottom cake layer, the cover with the mascarpone mixture. Top with the other cake layer, sprinkle with icing sugar and serve. A glass of Moscato or Malvasia di Pavia is the perfect complement.
This recipe is from
Antonio Carluccio's Italia