Polenta Biscuits Biscotti do Polenta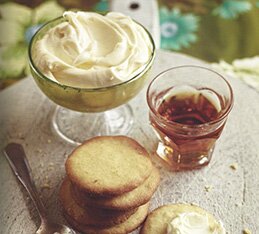 Serves Makes 30-40 biscuits
200g unsalted butter, cut into small cubes, plus extra for greasing
200g caster sugar
300g quick-cook polenta flour
100g plain flour
finely grated zest of 1 lemon
salt
2 whole eggs, plus 1 egg yolk
Maize, grown in the great northern plain, is ground to flour, which is not only used for making the savoury polenta, but also for cakes and biscuits. I created this biscuit, which is crunchy and so full of flavour that it can be served at any time – as a biscuit for morning coffee or afternoon tea by itself, or as an accompaniment for ice-cream, pannacotta, mascarpone with Amaretto and many more creamy puddings.
Preheat the oven to 190-200°C/Gas 5-6. Grease a large baking tray with a little butter.
In the bowl, mix the butter cubes with the sugar, flours, lemon zest and a pinch of salt and crumble with your fingers until you have a breadcrumb texture. Make a well in the centre. Beat the eggs and egg yolk until well blended, and add to the well in the flour-butter mixture. Mix together to obtain a soft and even consistency.
Spoon the mixture into a piping bag fitted with a 1.5cm nozzle. Squeeze dots of dough on the baking tray, leaving space to allow them to spread. (You may need to bake the biscuits in two batches.) Bake for 15 minutes until golden brown. Allow to cool for a few minutes on the sheet, then using a spatula or fish slice place on a wire wrack to cool completely before serving.
This recipe is from
Two Greedy Italians Eat Italy