Chestnut Jam Marmellata di Castagne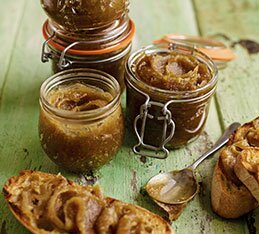 Serves - makes 3 x 600g Jars
1kg fresh whole chestnuts
salt
450g golden syrup
1 vanilla pod, split in half
350g caster sugar
With their high content of proteins and healthy oils, nuts are much appreciated in Italy. Most are used in confectionery and sticky cakes, but pistachios and chestnuts are used in soups and pastas. (My mother used to put hot chestnuts in my pockets in winter to keep my hands warm going to school.) Chestnut flour is used in gnocchi, pasta, bread and cakes. When fresh, almonds are minced to make a heavenly drink, latte di mandorle; ground, they are the main ingredient of marzipan and frangipane (their shells are used as fuel). Hazelnuts are used similarly. Pine nuts or kernels are used in pesto genovese; walnuts in a Ligurian pasta sauce. Walnut and hazelnut oils make wonderful dressings.
My granny, Donna Peppinella, was a very good country cook and her chestnut jam, given to us as children after school for merenda (afternoon snack), still remains in my memory. The jam was seasonal, of course, made in the autumn when the chestnut trees were groaning with fruit. (Sadly, many chestnut trees are dying through disease now, particularly in the north of Italy, though great efforts are being made to save them.) Although the preparation for making this jam is a little elaborate and takes a little patience, your efforts will be well worthwhile.
Pierce the chestnuts and place in a pan. Cover completely with water and add a pinch of salt. Bring to the boil and cook for 1 hour. Drain them, then leave to cool a little before peeling off the first layer of tough brown shell and as much of the papery brown skin as possible. Put them back in the pan, cover with water and boil for another 10 minutes. Drain, cool a little, then peel off the remaining pieces of skin. Put the chestnuts into a processor or blender and blend to a fine pulp. In another pan gently heat the golden syrup, 2 tablespoons of water, the vanilla pod and sugar. When the sugar has melted and you have a syrup, mix in the chestnut pulp. Cook for another 10 minutes. Spoon into warm sterilised jars, and keep for up to a year (if you can resist eating it within the first couple of weeks!). It can also be used for filling ravioli or tarts.
This recipe is from
Two Greedy Italians Eat Italy