Pasta and Bean Soup Pasta e Fagioli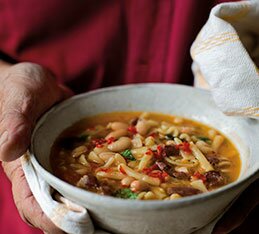 Serves 4
300g dried cannellini beans, soaked overnight
5 tbsp olive oil
a few pieces of cured Italian ham (prosciutto) and, if you can find it, a piece on the bone, or a handful of lardons
2 garlic cloves, peeled and sliced
10 cherry tomatoes, halved
1 litre beef or chicken stock (see pages 47 or 55)
200g mixed short dried pasta
2 tbsp fresh basil leaves
salt and pepper, to taste
extra virgin olive oil, to finish
1 tsp chopped fresh chilli (if liked), to finish
Every Italian region, sometimes even every town, has a pasta e fagioli, which is a charming and warming cucina povera dish. It can be very thick or more soupy, according to the area of its origin. For me, it is a benchmark in my restaurants: if a chef can't make it properly, then he is not a good or conscientious chef. This southern version of the classic dish is totally different from the northern, and would traditionally make use of the leftovers of many packets of different pasta shapes, called munnezzaglia (rubbish). Nowadays, commercial pasta companies provide ready-mixed pasta in bags to be bought for the occasion, known as pasta mista.
Drain the beans, and cover with fresh water (do not add salt). Cook them for 1½ hours until soft. Drain and reduce half of them to a paste in a processor. In a large saucepan, heat the olive oil gently, then add the pieces of ham and the bone (if lucky enough to find one), and fry for about 2–3 minutes, then add the garlic, and fry very briefly. Add the tomatoes and the stock and bring to the boil. Add both the whole and crushed beans and the pasta, and cook, stirring occasionally, until the pasta is soft, about 10 minutes. Add the basil and salt and pepper to taste. Divide the soup between warmed bowls and serve with a little stream of extra virgin olive oil. I wouldn't add any cheese, but perhaps a little chopped chilli would be good.
ALTERNATIVES
For a more northern version of this classic pasta soup, replace the dried cannellini beans with borlotti beans and the mixed short dried pasta with broken pieces of dried tagliatelle, add a finely chopped onion to the oil with the ham and scatter over a little freshly grated Parmesan to finish.
This recipe is from
Antonio Carluccio's Pasta