Large Pasta Hats with Sicilian Vegetable Stew Capelli con Caponata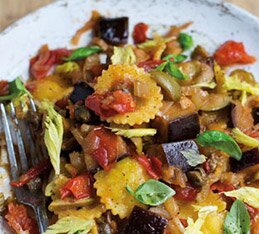 Serves 4
350g dried cappelli pasta
Salt and pepper, to taste
CAPONATA
2 large aubergines, cut into slices first and then cubes
100ml olive oil
2 onions, peeled and finely sliced
The heart of 1 head celery, plus the leaves, finely chopped
150g pitted green olives, sliced
200g tomatoes, ripe from the plant, crushed
50g salted capers, rinsed
2 tbsp caster sugar
2 tbsp strong red wine vinegar
10 fresh basil leaves, plus extra to garnish
Cappelli, traditional Puglian pasta that resembles little hats, is made from durum wheat semolina in Puglia. I have had the audacity to combine them with a typical Sicilian speciality, caponata, creating an Italian fusion dish, which I must confess is rather successful. It could be eaten warm or cold as a salad.
Start by soaking the aubergine cubes in water to make them less oil-absorbent, for up to 10 minutes. Drain them well. Heat the oil in a large frying pan, then fry the aubergine until soft, about 10 minutes. Drain on absorbent kitchen paper and set aside.
In the same oil, fry the onions for a few minutes to soften, then add the celery, celery leaves, olives, tomatoes and capers, and cook until the celery is tender, about 10 minutes. Add the aubergine to the pan and stir-fry for a further 10 minutes. Add the sugar and the vinegar and cook for 5 minutes more. Add the basil and taste for salt and pepper.
Meanwhile, cook the pasta in plenty of boiling salted water for 12- 14 minutes or until al dente. Drain and mix with the caponata. Add a drizzle of extra virgin olive oil, garnish with the rest of the basil leaves and serve.
This recipe is from
Antonio Carluccio's Pasta