Milanese Breaded Pork Cutlet Costolette Di Maiale Alla Milanese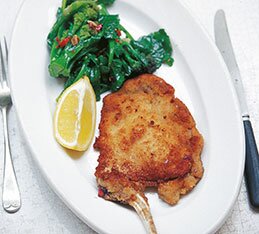 Serves 4
4 large port cutlets, bone in
Salt and pepper
2 eggs beaten
6 tbsp dried white breadcrumbs
Olive oil and vegetable oil, for shallow-frying
500g purple sprouting broccoli
2 garlic cloves sliced
½ chilli, chopped
1 lemon quartered
Meats cooked the Milanese way is almost always breaded and fried. The most typical example is usually made with veal, but the dish is also possible with chicken or pork. For this one here, you need a large pork cutlet with the bone, the flesh beaten quite thinly. The rest is child's play.
Place the cutlets on a piece of cling film or greaseproof paper and cover with another piece. Beat the fleshy parts with a mallet or something heavy. You want the meat to spread and become a little thinner. Remove the film or paper.
Season the cutlets and dip in the beaten eggs, then coat with breadcrumbs.
Pour enough mixed oil into a large shallow pan to cover the base. Heat it until it starts to bubble, then fry the cutlets on a medium-high heat for at least 5 minutes on each side until golden brown. Set aside and keep warm.