Hazelnut and Pistachio Crunch Croccante Di Nocciole E Pistacchi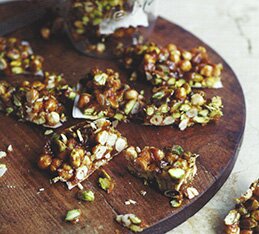 Serves Makes 1kg (2lb 4oz)
2-3 sheets of rice paper
400g (14oz/2 cups) golden caster sugar (superfine sugar)
100g (3½ oz) runny honey
Finely grated zest of 1 orange
250g (9oz) shelled hazelnuts
250g (9oz) shelled pistachio nuts
1 lemon, halved
This is perhaps the favorite Italian way of using hazelnuts, in a celebratory sweet that makes its appearance towards Christmas, and at festas from north to south. It can be made with almonds as well, or a mixture, as here. Eat as a sweet after a meal – or whenever you like!
Line two baking tray sheets with rice paper.
Put the sugar and honey into a large, heavy – based saucepan, and melt together gently. When melted, raise the heat slightly and cook until the sugar turns a light brown in colour. Add the orange zest and stir for a minute with a wooden spoon. Add the hazelnuts and pistachios, and stir together until the nuts are coated with syrup.
Pour this mixture on to the paper – lined baking sheets, and use the lemon halves as spatulas to spread the mixture out to about 2.5cm (1 inch) in thickness. (The lemons will not stick, unlike a wooden or plastic spatula.)
White still warm, cut the sticky mixture into whatever shapes you like – cubes of about 4cm (1½ inches) square are best. When completely cold, break the croccante into pieces, and store in an airtight jar.
This recipe is from
Vegetables by Antonio Carluccio