Prawns in Garlic, Oil and Chilli Sauce Gamberoni all 'Aglio Olio e Peperoncino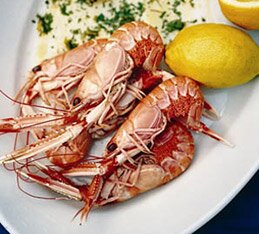 Serves 4
20-24 large whole prawns, peeled, leaving the tail and head attached
12 tbsp olive oil
2 dried chillies, crumbled
4 garlic cloves, finely chopped
1 tbsp coarsely chopped fresh flat-leaf parsley
These prawns are especially delicious if you take the trouble to peel the body, leaving the flesh exposed so that it can absorb the other flavours. The juices from the head also contribute to the final taste of the sauce. Add chilli to taste – I like it hot!
Try and get some of those famous red and fleshy prawns, sold as gamberoni in Italy. Dublin Bay prawns, French langoustines or Italian scampi may be used instead. An ideal wine to accompany this dish is a good young red, served chilled.
Heat the olive oil in a pan, add the chillies and then immediately the prawns. Fry, turning the prawns over frequently, for two minutes. Now add the garlic and parsley and allow the flavours to seep into the prawns – this will take only a few seconds. Don't let the garlic brown. Serve the prawns in warm individual bowls. Accompany them with some good bread to dip into the flavoured oil. I like to eat the prawns with my hand, and a lot of finger sucking goes on!
This recipe is from
An Invitation to Italian Cooking