Springtime Field Salad Insalata di Campo Primavera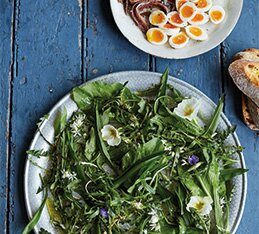 Serves 4
150g (5 ½ oz) young dandelion leaves
50g (1 ¾ oz) young wild sorrel leaves
100g (3 ½ oz) tender wild garlic leaves
50g (1 ¾ oz) wild rocket (arugula) leaves
VINAIGRETTE
50ml (2floz/ ¼ cup) extra virgin olive oil
2 tablespoons which wine vinegar or balsamic vinegar
salt and freshly ground black pepper
TO SERVE
8 slices of bruschetta
12 quail's eggs, hard-boiled and peeled
12 anchovy fillets in oil
In springtime fields in Italy and France (but rarely in England), you often see people armed with baskets and knives, bending from time to time to collect the new tender growth of dandelion, wild sorrel and wild garlic. It is food for free, and these leaves are all available in the UK!
I traditionally make this salad for Easter, and accompany it with bruschetta, slices of toasted ciabatta.
Wash and dry all the leaves. Put them into a bowl.
Make the vinaigrette by putting the ingredients into a bowl or jar, and beating or agitating until you have an emulsion.
Halve the quail's eggs. Drain the anchovies.
Pour the vinaigrette over the leaves in the bowl, and mix. Decorate with the halved quail's eggs and the anchovy fillets, and offer the bruschette on the side. Just for fun, you could collect some spring flowers – primroses and violets, for example – and use their petals for decoration as well.