Baked Aubergine with Cheese and Tomato La Parmigiana di Melanzane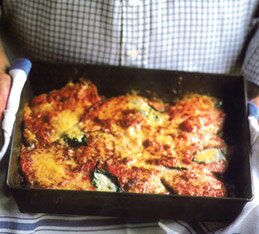 Serves 8 as a main course, 10-12 as a starter
4 large aubergines weighing altogether 1.1 – 1.2kg (about 2 1/2 lb)
Plain flour for coating
4 eggs
Plenty of olive oil
300g (10 1/2 oz) fontina cheese, sliced
115g (4 oz) Parmesan, freshly grated
Salt and pepper to taste
SAUCE
4 tbsp olive oil
1 garlic clove, chopped
1 1/2 x 800g (1 3/4 lb) cans peeled plum tomatoes, chopped in the can
10 fresh basil leaves, torn
I've never known whether this dish is called 'parmigiana' because it comes from Parma, or because it's made with Parmesan cheese. It is originally from Sicily, but it is cooked all over Italy and can be an excellent vegetarian main course. I've changed the classic recipe slightly. You can use courgettes instead of the aubergines.
Slice the aubergines about 1cm (1/2 inch) thick. Dust the slices on both sides with flour. Beat the eggs, season with salt, and dip the floured aubergine slices into this. Fry the aubergine slices three or four times in some hot oil. Brown on both sides, remove and drain on kitchen paper. You will need more oil from time to time.
Now make your tomato sauce in the usual way, adding salt, pepper and the basil towards the end.
Preheat the oven to 200 C/ 400 F/ Gas 6.
Put two or three spoonfuls of tomato sauce in the bottom of a large ovenproof dish, then arrange a layer of the aubergine slices, placed as close together as possible. Cover the aubergines with some pieces of fontina, spoon a little tomato sauce on the cheese and sprinkle with some Parmesan. Continue with another layer of aubergine slices, arranging them in the opposite direction to the layer below, cover with fontina, tomato sauce and Parmesan. The final layer should be of tomato sauce, small pieces of fontina and a generous amount of Parmesan. Bake in the preheated oven for 25-30 minutes. Leave the dish to sit for 15 minutes before cutting up to serve.
This recipe is from
An Invitation to Italian Cooking