Beetroot Lasagne Lasagna di Bietole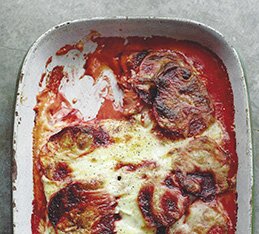 Serves 4
4 very large beetroots (beets), about 750g (1lb 10oz)
150g (5 ½ oz) smoked ham, in thin slices
salt and freshly ground black pepper
SPICY CHEESE SAUCE
70g (2 ½ oz) unsalted butter
50g (1 ¾ oz / 1/3 cup) plain flour (all purpose flour)
500ml (18fl oz/2 cups) milk, warmed
90g (3 ¼ oz) Parmesan, freshly grated
freshly grated nutmeg
a pinch of chilli powder
Beetroot is sold in good delicatessens in Italy already cooked. It's usually oven baked, when the concentration of goodies is greater than with a boiled vegetable. It is better you use large beetroots, as they will need to be cut into thin slices to build the lasagna layers. You could make this dish vegetarian by omitting the smoked ham.
Boil the beetroot in slightly salted water for 1 ½ hours, until the centre is soft.
Make the sauce. Melt the butter in a medium saucepan, then add flour, and stir to amalgamate the flour with the melted butter. Add the warm milk slowly, stirring constantly to avoid lumps, until the sauce is thick. Add 80g (2 ¾ oz) of the parmesan, some nutmeg, chilli powder, salt and pepper to taste.
Peel the cooked beetroot and cut into thin slices. In an overproof dish, build a layer of beetroot, followed by a layer of ham, then cover with some of the sauce. Build up these layers until you finish the ingredients, ending with the remainder of the sauce on top. Add a final sprinkle of the remaining Parmesan and black pepper.
Bake in the preheated oven for 35 minutes and serve hot.
This recipe is from
Vegetables by Antonio Carluccio