Mango with Lime Syrup Mango con Scoroppo di Limo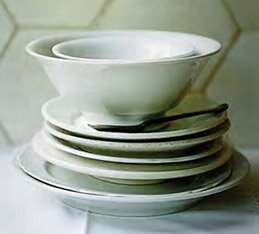 Serves 4
2 large ripe mangoes
4 small sprigs mint
Lime Syrup:
3 limes
100g caster sugar
An extremely simple recipe with lots of fresh flavour. The best mango to use here would be the Alfonso variety from India, but this recipe will be a success whatever type you use.
To peel the mangoes, cut close to the large narrow stone along the length of the fruit on either side. You will have two rounded bits, and the stone. Cut the peel off the rounded bits and place the four pieces on a large plates.
To prepare the syrup, first cut the rind off the limes, leaving behind any pith. Slice this rind into thin strips. Squeeze the juice from the limes into a small pan and add the sugar. Simmer until the sugar has melted, then boil to reduce this liquid by half. Add the strips of rind and continue to simmer for a few minutes, until caramelised. Leave cool.
Pour the cooled lime syrup over the mango halves and decorate with the mint sprigs.
This recipe is from
Antonio Carluccio's Simple Cooking