Mushroom Strudel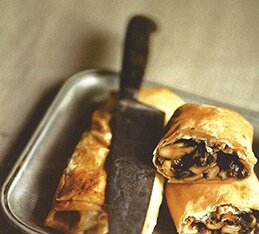 Serves 4
1 x 200g packet filo pastry
55g butter, melted
1 egg, beaten
FILLING
500g mixed wild and cultivated mushrooms, cleaned weight
1 medium onion, finely chopped
40g butter
Lots of freshly grated nutmeg
1 tbsp dry sherry
1 tbsp plain flour
Leaves from 1 sprig marjoram
30g parmesan, freshly grated
Salt and pepper to taste
Having lived for a couple of years in Vienna, strudel was known to me only as an excellent dessert, either filled with apples, pears or sour cherries, or with a paste of poppy seeds. The idea of making it savoury, with a mushroom filling, is perhaps not completely new in general terms, but it is for me, and here it is. To be lazy, I bought filo pastry, but if you are a skillful maker of the original strudel pastry, feel free!
Preheat the oven to 200°C/ Gas 6. Take 3 sheets of filo at a time. Brush 1 sheet on both sides with melted butter, then place it on top of another sheet with a third on top. Make 4 such piles of triple-layer filo. Cover with a damp cloth while you prepare the filling.
Make sure the mushrooms are dust- and sand-free, wash if appropriate (it rarely is) and trim if need be. Cook the onion in the butter and when soft add the mushrooms with the nutmeg. Stir-fry for 3-4 minutes. Add the sherry and evaporate the alcohol by cooking over a low heat for 2-3 minutes. Add the flour, marjoram and some salt and pepper, stir well, and leave to cool. The mixture will be moist. Grease the baking tray with butter and lay on it, one at a time, the 4 piles of filo. Brush the edges with beaten egg. Put a quarter of the mushroom mix on the centre of each and before folding them up, add the Parmesan. Brush with the beaten egg, turn so that the join is on the base and brush again, and bake in the preheated oven for 15 minutes. Serve warm.
This recipe is from
The Complete Mushroom Book: The Quiet Hunt