Pumpkin Soup Passato di Zucca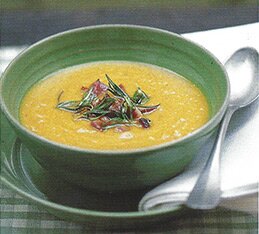 Serves 4
1 medium onion, peeled and finely chopped
2 tbsp olive oil
1 litre chicken or vegetable stock
600g pumpkin flesh, cut into cubes
Salt and pepper
Autumn and winter offer lots of roots and squash which can be used in soup. This type of pumpkin soup is more likely to be served in the north and especially the northeast part of Italy, from where speck (an air-dried and smoked shoulder of pork) originates.
Fry the onion in the olive oil in a large saucepan until soft, but not browning, about 10 minutes.
Add the stock and, when boiling, the cubes of pumpkin and celeriac, and cook until soft, about 15-20 minutes. Add salt and pepper to taste.
Liquidise in a food processor or blender and return to the pan. Reheat the soup and pour into serving bowls. Serve hot.
This recipe is from
Antonio Carluccio's Simple Cooking