Pasta and Bean Soup Pasta e Fagioli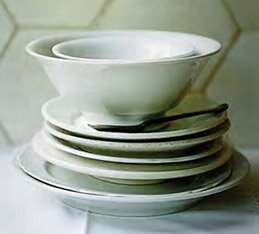 Serves Serves 6
300g fresh borlotti beans, or 200g dried beans soaked in cold water overnight and drained
6 tbsp olive oil
1 onion, finely chopped
2 basil leaves
1 rosemary sprig
1 litre chicken or vegetable stock
1 red chilli, chopped (optional)
1 tbsp tomato puree
Salt and pepper
150g tubetti pasta (little tubes)
4 tbsp extra virgin olive oil to serve
This is the best-known peasant dish in Italy. Every region has a version, but the Veneti, Trentini and Tirolesi have elevated it to a dish smart enough for posh restaurant menus. For me, it is the benchmark of a good chef-because it is so simple, it must be perfect.
Put the beans into a heatproof earthenware pot or large pan and cover with cold water. Bring to the boil and cook gently, allowing one hour if using fresh beans, 1 1/2-2 hours if using dried. Don't salt the water or the skins will remain tough. When soft, drain and puree half of the beans in a blender or food processor, then mix together with the whole beans.
Heat the olive oil in a saucepan, add the onion and fry until softened. Add the basil, rosemary, stock, chilli if using, tomato puree, beans and salt and pepper to taste. Bring to the boil, then add the pasta and cook for 7-8 minutes or until the pasta is al dente.
Leave to stand for 30 minutes before serving to allow the flavours to mingle. Reheat if you like, but in Italy soups are more often served warm rather than hot, even cold in summer. Top each portion with a drizzle of extra virgin olive oil.
This recipe is from
Antonio Carluccio's Italia