Neapolitan Easter Wheat Cake Pastiera di Grano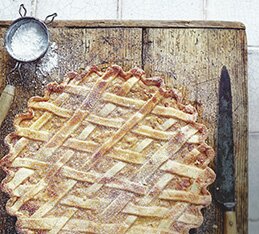 Serves 8-10 or more
PASTRY
300g (10 ½ oz/2 ¼ cups) plain flour (all-purpose flour)
150g (5 ½ oz) unsalted butter or lard in small pieces
150g (5 ½ oz/1 ½ cups) caster sugar (superfine sugar)
3 large egg yolks
FILLING
200g (7oz/1 cup) whole-wheat grains (sometimes sold as wheat berries) or 440g (14oz/about 23/4 cups) prepared wheat grains from an Italian deli
500ml (18floz/2 cups) milk (if cooking your own wheat)
finely grated zest of ½ a lemon and ½ an orange
1 teaspoon ground cinnamon
1 teaspoon vanilla extract
300g (10 ½ oz/1 ½ cups) fresh ricotta cheese
4 large eggs, separated
50ml (2floz/ ¼ cup) orange-blossom water
150g (5 ½ oz) mixed candied peel, finely chopped
225g (8oz/1 cup) caster sugar (superfine sugar)
TO FINISH
a little unsalted butter, melted
icing sugar (confectioners' sugar)
Grain, especially wheat, is a very important ingredient in Italy. Once upon a time, it was used as payment, and this 'wheat tart', has some religious significance as well. It is made at Easter in the South of Italy, especially in Naples, to give as a present.
Soak the grains in water to cover for 24 hours, changing the water occasionally. Drain, and pour the milk over the grains in a saucepan. Simmer with the lemon and orange zest for 45 minutes over a very low heat, until tender. (If using ready-prepared grains, you obviously don't need these first steps). Add the cinnamon and vanilla now.
Meanwhile, make the pastry. Put the flour into a bowl, and mix in the butter or lard until the texture of breadcrumbs. Mix in the sugar, then the egg yolks and stir with a wooden spoon – or your hands – until you have a smooth pastry. Wrap in clingfilm (plastic wrap) and chill in the refrigerator for 1 ½ hours.
Put the ricotta, egg yolks and orange-blossom water into a bowl. Add the candied peel and cooked grains and mix together. Beat the egg whites with the sugar until stiff and fold very gently into the filling, using a metal spoon.
Butter a large flan tin 35cm (14inches) in diameter and 5cm (2inches) deep. Preheat the oven to 190°C (375°F/gas 5). On a lightly floured surface, roll the chilled pastry out to a 5mm (1/4inch) thickness. Line the flan tin with the pastry. Cut off any surplus, which you will need for the lattice.
Pour the filling into the pastry case, and spread with a knife. Roll out the remaining pastry, cut into long strips and make a lattice pattern on the tart. Brush with the melted butter and bake for 45 minutes. Sprinkle with icing sugar before serving hot or cold.
This recipe is from
Vegetables by Antonio Carluccio