Chicken Liver Pâté Pâté di Fegatini di Pollo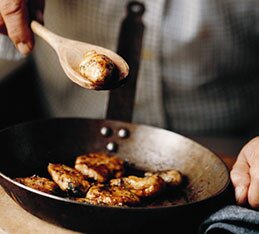 Serves (Makes about 600g)
500g chicken livers
4 tbsp olive oil
1 tbsp each of finely chopped sage and parsley
1 garlic clove, peeled and puréed
salt and pepper
1 tbsp each of good brandy and sweet sherry
150g unsalted butter
This recipe originally comes from Tuscany, but I have varied it a little so that it more closely resembles the much talked-about pâté de foie gras of goose or duck.
Line a suitably sized terrine dish, or 4-6 individual pots such as ramekins. with greaseproof paper or clingfilm.
Using a paring knife, clean the livers by cutting away any green patches and membrane, removing the fibres around the centre of each. Wash and dry well, then roughly chop.
Fry the livers in the oil on a medium heat with the sage, parsley, garlic, and some salt and pepper for about 10 minutes, turning them, until still pink in the middle. Remove from the heat and allow to cool.
Blend the mixture in the food processor, adding the brandy and the sherry to the machine while operating, 3-4 minutes only, until you have a rough paste. Return the paste to the pan, add the butter and melt over a low heat until the liver mixture becomes very homogenised, a couple of minutes.
Pour the pâté into the terrine or individual ramekins, and smooth on top. Allow to rest and cool in the fridge for a couple of hours, until solid.. Eat spread on crostini (pieces of toasted bread).
Leftovers
A little pâté added to meaty sauces or to meat or vegetable stuffings gives a wonderful flavour.
This recipe is from
Antonio Carluccio's Simple Cooking