Pasta Quills with Courgette Sauce and Spinach Balls Pennoni Giardiniera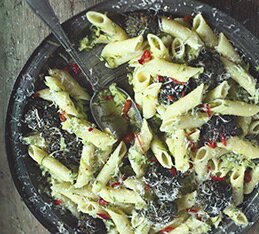 Serves 4
300 g dried giant penne pasta, known as pennoni
Salt and pepper, to taste
40g Parmesan cheese, freshly grated
SPINACH BALLS
600g young spinach leaves
2 medium eggs, beaten
1 garlic clove, peeled and crushes
Tip of a knife of freshly grated nutmeg
50g fresh breadcrumbs
20g Parmesan, freshly grated
Olive oil for shallow frying
SAUCE
4 tbsp olive oil
1 garlic clove, peeled and finely chopped
1 little fresh red chilli, not too hot, finely chopped
300g grated courgette
I have to include this recipe because it has become very well known, at least in Carluccio's restaurants. Some years ago the personnel at the Ealing Carluccio's asked me if I could create a vegetarian dish with pasta. I went immediately to the kitchen, where I found enough courgettes and spinach to make a dish, matched them with pennoni (large pasta tube from Puglia), and this is. It has been on the Carluccio's menu since then, and each time it is ordered, it collects 50p for charity. It has been so successful that in those eight intervening years it has collected almost a million pounds!
Prepare the spinach balls first by cooking the spinach leaves in salted water for a few minutes. Scoop out and leave to cool down. When cool, squeeze out most of the moisture and chop the leaves with a knife, but not too small. Then mix in a bowl with the eggs, garlic, nutmeg, breadcrumbs and Parmesan. Make some balls the size a large walnut and shallow-fry in oil until they start to brown on all sides. Set aside.
Cook the Pasta in plenty of boiling salted water for 12-15 minutes or until al dente. Drain. (Pennoni are large, so need a longer cooking time.)
Meanwhile, for the sauce, heat the oil in a large saucepan, and add the garlic, chilli and courgette to the pan. Cook quickly in the oil, about 3-4 minutes. Add salt and pepper to taste.
Mix the cooked pasta into the sauce, then divide between warmed plates. Sprinkle the top of each portion with Parmesan and place four of five spinach balls on top.
Alternatives
You could use paccheri or rigatoni instead of the pennoni.
This recipe is from
Antonio Carluccio's Pasta