Roasted Peppers Peperoni Arrosto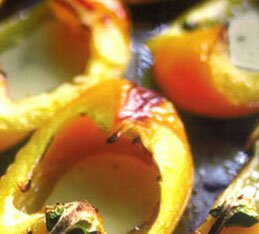 Serves 4
4 firm and fleshy yellow and red sweet peppers
Dressing
2 garlic cloves, peeled and coarsely chopped
3 tbsp extra virgin olive oil
1 tbsp coarsely chopped flat-leaf parsley
Salt
Roasted peppers, skinned and eaten as a salad, is one of my favourite pepper dishes. They are most delicious when prepared over a barbecue, but can also be done in the oven. You will find a recipe like this in trattorias from the middle of Italy right down to Sicily; it is a very southern dish. These peppers are great as an antipasto, but can also be served with roast meats, even fish.
Roast the peppers on a barbecue, turning them over frequently with tongs, until the skins are blackened and blistered. Depending on the flame, this can take quite a while. Don't be afraid of allowing them to become black; they're better overcooked than too raw – but you don't want them to turn to ash!
Alternatively, roast the peppers in a preheated oven at 200°C/Gas 6 for about 30-45 minutes. However, while this method is a little less labour- intensive, the flavor is not quite as good.
When the peppers are ready, put them in a dish to cool a little. I don't think they need to be put in a plastic bag or covered, despite the advice of many other chefs. When cool enough to handle, rub the skins off with your hands, then slice the peppers in half and remove the stalks, inner membranes and seeds.
Cut the pepper flesh lengthways into narrow strips and place in a dish. Add the dressing ingredients and mix, seasoning with salt to taste. You can eat the dish straightaway, or leave it to become cold, but it is at its best the next day, when the flavours have had time to mingle
This recipe is from
Antonio Carluccio's Simple Cooking