Pesto Sauce Pesto alla Genovese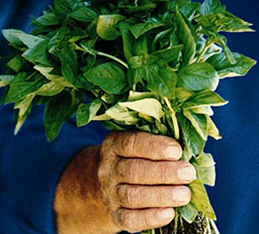 Serves Makes 200g (7 oz) pesto
2 fistfuls fresh basil leaves
1 garlic clove
25g (1 oz) pine nuts
About 125ml (4 fl oz) olive oil
4 tbsp freshly grated pecorino piccante cheese
4 tbsp freshly grated Parmesan
Salt to taste
This recipe requires a fair amount of fresh basil. If you cannot find enough, supplement one fistful with fresh flat-leaf parsley. This alternative makes an excellent, albeit, different, pesto. In most countries, it is possible to make a lot of pesto when basil is plentiful and not at an exorbitant price. To preserve it, you should take the quantities in this recipe and multiply them by four. This will give you about sixteen or so individual portions, which are best divided between small jars.
The simplest way to make this sauce is to put all the ingredients in an electric mixer and blend very briefly until you have a rough textured sauce. You can also pound the ingredients in a pestle and mortar. The latter will have a completely different look and texture to the former, and I don't mind the extra work. Alternatively, you can chop everything very finely with a sharp knife.
Chop the basil leaves roughly and slice the garlic. In your pestle, grind the garlic to a paste, then add the basil leaves and pound until they begin to break up. Add the pine nuts and, as you pound them, they will begin to amalgamate with the basil. At this point, slowly start to dribble olive oil, enough to obtain a semi liquid sauce. When the sauce has become liquid enough, add the cheeses, stir in well and season lightly with salt. The amount of salt depends on the type of pecorino used. Some can be very salty.
This recipe is from
An Invitation to Italian Cooking