Tuscan Pasta with Pork Sauce Pici o Pinci al Ragu di Maiale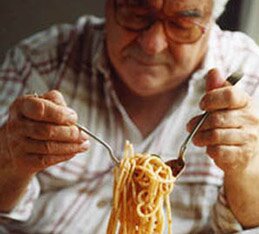 Serves Serves 6
400g pici or pinci (or the largest spaghetti as possible)
80g pecorino cheese or Parmesan, freshly grated
Pork Ragu
6 tbsp olive oil
1 small onion, finely chopped
1 celery stalk, finely diced
1 carrot, finely diced
400g pork mince (not too fatty)
100ml dry red wine
500g polpa di pomodoro or chunky passata
5-6 bay leaves
Salt and pepper
Pici is possibly the only original Tuscan handmade pasta. It is made by pulling on a piece of dough made of durum wheat flour (usually no egg) until you have a lengthy string the size of a bucatino without the holes. It's similar to the Venetian bigolo, so quite substantial. In Tuscany, it is regularly eaten with a ragu of wild boar, hare, rabbit or pork.
To make the ragu, heat the olive oil in a pan, add the onion, celery and carrot, and fry gently until soft. Add the meat and stir to brown a little, then add the wine and let the alcohol evaporate. Stir in the tomato pulp and add the bay leaves and some seasoning. Cook very slowly for two hours.
Cook the pasta in plenty of boiling salted water until al dente, about 15-17 minutes. Toss with the sauce and serve with grated cheese.
This recipe is from
Antonio Carluccio's Italia