Pistachio Gelato Pistachio Ice Cream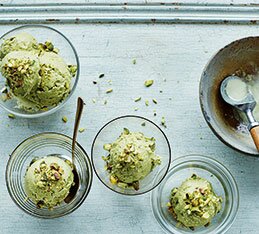 Serves 6
500ml (18fl oz/2 cups) full-fat milk
1 tablespoon ground cardamom
5 medium egg yolks
50g (1¾oz) runny honey
150g (5½oz/¾ cup) caster sugar (superfine sugar)
100g (3½oz) shelled pistachio nuts, plus extra, chopped, to decorate
150ml (5fl oz/⅔ cup) double cream (heavy cream)
a touch of green food colouring
The Doges of Venice were responsible for quite a few of the spices introduced into Italy, the result of their trade in all corners of the Mediterranean. This ice cream, made with pistachio nuts, is flavoured with cardamom, not a usual flavouring now in Italy, but at one time very popular.
Bring the milk to the boil, add the cardamom, then simmer for 5–10 minutes. Allow to cool, then strain.
In a separate bowl, mix the egg yolks, honey and sugar until creamy. Add the flavoured milk, a little at a time, and whisk in until the milk is used up. Place the mixture in a bain-marie or double boiler and cook gently for 15 minutes. (You could use a heatproof bowl set over a pan of boiling water, making sure the water is not touching the bowl.) Keep stirring to avoid lumps. Cover with clingfilm and leave to rest in the refrigerator overnight.
The next day, churn the mixture in an ice-cream machine for about 30 minutes.
Meanwhile, in a blender, reduce the pistachios to a fi ne cream. In a bowl, half whip the double cream: you want it still soft. Add the pistachio cream, whipped cream and green food colouring to the ice-cream machine in the last 5 minutes of churning. The ice-cream is ready. (If you don't have a machine, put the ice-cream mix into a container in the freezer for about an hour, then beat it with a fork and return it to the freezer. Do this two or three times. The last time you do this, add the cream, nuts and food colouring, then leave to freeze until fi rm.)
Serve in little bowls with chopped pistachios sprinkled over the top. Very nice with polenta biscuits.
This recipe is from
Vegetables by Antonio Carluccio