Chicken Baked with Rosemary and Garlic Pollo al Rosmarino e Aglio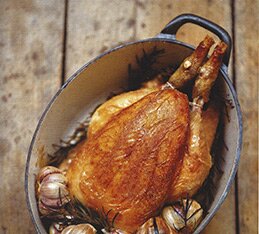 Serves 4
1 x 2kg good chicken
8 garlic heads, whole
2 sprigs rosemary
6 tbsp olive oil
Salt and pepper
150ml dry white wine
Needless to say, for this dish I would use one of those chickens which has lived in the courtyard and eaten the odd seed and piece of corn scratched out of the soil- naturally free-range. Italians like this simple dish, which is good hot or cold.
Preheat the oven to 200°C/ Gas 6. Put the chicken into a casserole or baking tray. Add the garlic and rosemary and then pout in the olive oil. Sprinkle with salt and pepper to taste, then mix with your hands to coat everything well with oil.
Put into the preheated oven and bake for 1½ hours. Halfway through this cooking time, pour in the wine and mix well.
Continue to cook to the end the cooking time, remove from the oven and serve with spinach or a green salad.
Leftovers
Use any leftover meat you can strip from the chicken carcass to make the chicken dumplings for a Stracciatella con Gnochetti di Pollo.
This recipe is from
Antonio Carluccio's Simple Cooking