Large Green Ravioli Stuffed with Burrata Ravioloni Verdi con Burrata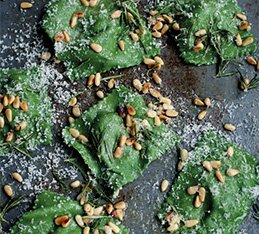 Serves 4-6 (making 12 Ravioloni)
400g fresh green pasta
Salt and pepper to taste
80g Parmesan freshly grated
Filling and Sauce
600g Burrata mozzarella cheese
50g Parmesan, freshly grated
60g unsalted butter
20g pine kernels, toasted
1 tbsp fresh rosemary needles
This is the time to show a little skill. Burrata is an extremely delicate and soft mozzarella made from cow's milk in Puglia: it is said to have been invented in the 20th century as a means of using up the ritagli (scraps or rags) of mozzarella. An outer layer of ordinary mozzarella encloses these scraps of mozzarella mixed with cream, giving it the most wonderful flavour and texture. For this you require freshly made pasta with spinach to give wonderful colour.
Roll out your pasta, by hand or machine, into two long sheets, roughly 15-20cm wide and 2mm thick. Place on your work surface. Cut the Burrata into 12 pieces. Put half of the pieces evenly along one side of one sheet of pasta, and sprinkle with some of the Parmesan. Wet all around the pieces of cheese with water and fold over the other side of the pasta sheet. Cover the six morsels by pressing the dough all around each to expel the air. Cut into rectangles with a pasta wheel. Cover with a tea towel while making the remainder. Repeat with the other pasta sheet, using the rest of the Burrata pieces and the remaining Parmesan.
Cook the ravioli gently in plenty of boiling salted water for 2-3 minutes or until al dente. Melt the butter in a pan with the pine kernels and rosemary. Let the hot butter absorb the herb flavour for 2 minutes. Scoop the ravioli out of the water and place in the pan with the melted butter and pine kernels. Serve the pasta in warmed plates, sprinkled with Parmesan.
This recipe is from
Antonio Carluccio's Pasta