Risotto with Mushrooms Risotto con Funghi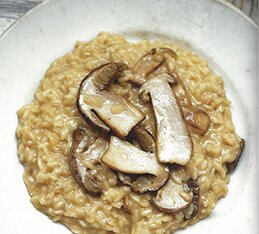 Serves 4
2 litres of chicken or vegetable stock
4 tbsp olive oil or 50g unsalted butter
1 onion, peeled and very finely chopped
300g firm button mushrooms finely sliced
50g dried porcini (ceps), rehydrated (see picture) and chopped
350g carnaroli or arborio risotto rice
60g Parmesan, freshly grated
80g unsalted butter
Salt and pepper
Perhaps together with risotto with truffles, risotto with ceps is the best-known of Italian rice dishes. Italians eat this only in season when the porcini (Boletus edulis or cep) is around, but the following recipe I have devised will enable you to enjoy a mushroom risotto throughout the year. Should you manage to find some fresh porcini, however, I urge you to try them, the taste is sensational!
Put the stock in a pan, bring to the boil and keep at a low simmer.
Heat the olive oil or butter in a large pan over a low heart, add the onion and fry until soft, about 10 minutes. Add the button mushrooms and the procini and cook for 5 minutes, until soft and lightly browned.
Add the rice and stir for a minute or two, then add one or two ladles of boiling stock. Stir continuously over the heat., adding stock a ladleful at a time as each addition is absorbed. After 18-20 minutes, check for the required al dente texture- the rice should be tender with a firm bite in the centre, and the risotto should be moist.
Remove the pan from the heat, add the Parmesan and butter and stir in well. Season to taste and serve on warm plates.
This recipe is from
Antonio Carluccio's Simple Cooking