Risotto di Zucca Pumpkin Risotto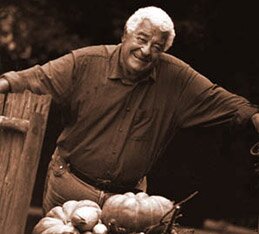 Serves Serves 4
600g (1 lb 5 oz) pumpkin flesh, chopped into very small chunks
2 tbsp olive oil
90g (3 1/4 oz) butter
4 sprigs of fresh rosemary, 2 finely chopped, 2 whole
1 garlic clove
1 small onion, finely chopped
300g (10 1/2 oz) carnaroli rice
1 litre (1 3/4 pints) chicken stock, hot
50g (1 3/4 oz) Parmesan cheese, freshly grated
Salt and pepper to taste
Pumpkin risotto is one of those comforting dishes which can please anybody, including vegetarians (if the chicken stock is replaced by vegetable stock). This specific recipe comes from the kitchen of the Hotel Cipriani in Venice. The chef, Renato Piccolotto, showed me his little secrets which I will now pass on to you. It is a wonderful dish.
In a pan, heat the oil and a third of the butter, then add the whole sprigs of rosemary, the garlic clove and pumpkin. The pumpkin will automatically exude some liquid and so no water needs to be added. Cook for about 20 minutes or until the pumpkin softens and dissolves. Remove the rosemary sprigs and garlic clove.
In another large pan, heat half the remaining butter and fry the onion gently until soft, then add the rice and fry equally gently, stirring continuously, for a few minutes. Add a little of the hot chicken stock and then the pumpkin mixture. Add more stock gradually until it is all used up and has been absorbed by the rice, stirring from time to time to avoid it sticking to the pan. Take off the heat and beat in the remaining butter and the Parmesan, and sprinkle with chopped rosemary.