Roast Pork With Four Mushrooms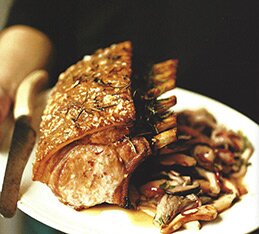 Serves 6
1 loin of pork, about 1.9kg, with crackling, trimmed and chined
1 tbsp salt
BASTING MIXTURE
1 garlic clove, finely chopped
1/2 fresh red chilli, finely chopped
1 tbsp rosemary needles, finely chopped
2 tbsp olive oil
MUSHROOM STEW
800g mixed mushrooms
(2 types of oyster mushrooms, pink and yellow, shiitake and chicken from the woods)
6 tbsp olive oil
1 garlic clove, finely chopped
1 medium fresh red chilli, sliced
150ml dry white wine
1/2 tbsp white wine vinegar
2 or 3 grates of nutmeg
2 tbsp chervil leaves
Salt and pepper to taste
I like pork! It is one of the most flavoursome meats, succulent and versatile. Here I have combined it with three cultivated and one wild mushroom. I had considered initially using three oyster mushrooms in different colours, but when we were shooting the food pictures a friend came along with a huge chicken of the woods just in peak condition! What would you have done in my place?
Preheat the oven to 220°C/ Gas 7. Rub the salt in to the crackling of the pork and roast in the preheated oven for 4o minutes.
While it is in the oven, mix the basting mixture ingredients together. Take the meat out of the oven and baste with the basting mixture. Return to the oven for a further 40 minutes.
Meanwhile, start the mushroom 'stew'. Clean the mushrooms well. Leave the oyster mushrooms whole if small. or cut in half if larger. Slice the shiitake and chicken of the woods. Heat the oil in a wok, add the garlic and chilli and fry briefly. Add the mushrooms and stir-fry a further 5 minutes. Add the wine and vinegar and cook gently for another couple of minutes. Just before serving add the nutmeg, some salt and pepper and lastly the chervil. Present the pork on a platter surrounded by the mushrooms, the carve on to hot plates.
This recipe is from
The Complete Mushroom Book: The Quiet Hunt