Home-made Sausages with Fennel Salsiccie Fatte a Mano con Finocchio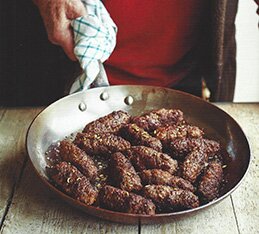 Serves 6
1kg (2lb 4oz) minced pork
1 teaspoon chopped red chilli
2 garlic cloves, peeled and crushed
1 teaspoon fennel seeds
100ml (3 ½ fl oz/just under ½ cup) red wine
salt and freshly ground black pepper
extra virgin olive oil
Italian sausages are in a league of their own. I a m thinking of those from Norcia, the town in Umbria famous for its pork and wild boar products, and the wonderful fresh pork lucanica sausages. Here I am making my own sausages from pork meat, and flavouring them with fennel seeds – a traditional combination in the finnochio salame of Tuscany. You can, however, make the sausages with any other meat – wild boar, lamb, beef, veal, chicken or turkey – and you can spice them as you please – any other seeds, or something like fresh sage would be good.
Serve the sausages with polenta, or mashed potatoes. They could be served with pasta as well. A sauce made from peppers, or tomatoes or indeed a salsa verde would be a good accompaniment.
Put the pork, chilli, garlic, fennel seeds and wine into a bowl, and season with salt and pepper to taste. Mix well together, then, using your hands, divide into twelve pieces. Roll each piece into a large sausage shape.
Heat 4 – 5 tablespoons of olive oil in a frying pan, and fry the sausages over a medium heat until they are golden on all sides. This will take about 10 minutes.
This recipe is from
Vegetables by Antonio Carluccio