Seafood Spaghetti Spaghettini con Frutti di Mare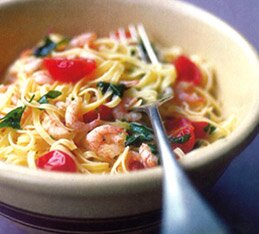 Serves Serves 4
400g (14 oz) spaghettini
Salt and pepper to taste
Sauce
1.8kg (4 lb) mixed fresh shellfish such as clams, mussels etc.
4 tbsp olive oil
2 garlic cloves, thinly sliced
1 dried red chilli
75ml (2 1/2 fl oz) dry white wine
2 tbsp chopped fresh flat-leaf parsley
Seafood pastas are basics of Italian gastronomy, but vary enormously from region to region: the spaghetti vongole from Naples, the Venetian black spaghetti with cuttlefish, pasta with mussels and limpets from Positano and spaghetti and sea urchins from Puglia. The most important thing to remember is that the seafood must be the very freshest possible. It is the liquid the clams or mussels produce in cooking that contributes enormously to the flavour.
Clean the shellfish under running water with a small brush. Then put them all into a saucepan containing about 1cm (1/2 inch) water and heat over a high flame. Cover the pan with a lid and shake vigorously a few times until all the shells have opened. Remove from the heat and leave to cool. (Discard any that remain closed). Take the fish from their shells and carefully strain their cooking liquid. Leave some of the shellfish in their shells to use as a garnish.
Heat the olive oil in a large heavy pan, add the garlic and fry for about a minute, taking care that it does not brown. Crumble the chilli into the garlic and add the wine, letting it evaporate a little. Pour in the shelled fish and their liquid and finally add the parsley.
Cook the spaghettini until al dente, then drain and mix in a little of the sauce. Divide between preheated bowls with the rest of the sauce and lots of black pepper. Garnish with the shells.
This recipe is from
An Invitation to Italian Cooking