Large Spaghetti with Meat and Aubergine Balls Spaghettoni con Polpette di Carne e Melanzane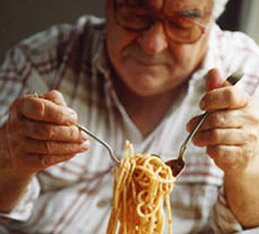 Serves 6 generously
600g good quality dried spaghettoni
30g Parmesan, freshly grated
Salt and pepper to taste
SAUCE
50ml olive oil
1 large onion, peeled and very finely chopped
100ml dry white wine
2tbsp tomato paste
680g tomato passata
10 fresh basil leaves
MEATBALLS
2 whole aubergines
Olive oil for cooking and shallow-frying
300g lean minced beef
1 garlic clove, peeled and squashed to a paste
½ tsp freshly grated nutmeg
50g Parmesan, freshly grated
1 medium egg, beaten
100g fresh breadcrumbs
It is well known that pasta is the best food for endurance athletes, especially before a physically engaging event such as a marathon. This is because pasta is very slowly digested, which allows energy to be released over some considerable time. I created this recipe especially for my rugby-playing friends, and it has worked well as demonstrated by Italy's recent win over France. (Rugby is a sport I would have enjoyed if, when i was young, I had been introduced to it.)
Preheat the oven to 180°C/Gas 4. Put the aubergines for the meatballs in an ovenproof dish, drizzle with a little olive oil and bake for 30 minutes. Cut the aubergines in half, and scoop the pulp out of the skins. Mash the pulp and keep to one side. Discard the skins.
For the sauce, heat the olive oil in a large saucepan, and fry the onion until soft, about 5 minutes. When soft add the wine, the tomato paste, tomato passata and the basil. Stir well and leave to cook gently for 30-40 minutes.
Meanwhile, continue with the meatballs by mixing together the beef mince, the soft aubergine pulp, garlic paste, nutmeg, Parmesan, beaten egg, breadcrumbs and some salt and pepper in a bowl. Mix well and shape with your hands into the shape of rugby balls and the size of apricots. Shallow-fry in olive oil to brown on all sides. Add the balls to the tomato sauce and keep warm.
Cook the pasta in plenty of boiling water for 8 minutes or until al dente. Drain well.
Pour the pasta into a large deep serving dish, and mix well with half of the sauce. Divide between individual dishes, put the rest of the sauce on the top and sprinkle with the Parmesan.
Serving Suggestion
An accompanying glass of Barbaresco or Chianti Classico – unless the players have to play soon afterwards – would suit this dish very well!