Sliced Beef Tagliata di Manzo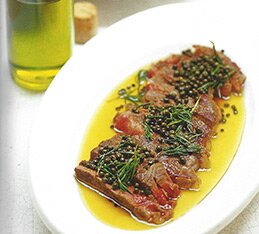 Serves 4
8 tbsp olive oil, for shallow frying
4 topside steaks, about 200g each
Salt
SAUCE
12 tbsp extra virgin olive oil
2 tbsp green peppercorns
4 sprigs rosemary, divided into smaller sprigs
This dish reminds me of Tuscany where the good local meat of the Val di Chiana, a valley near Florence, makes very worthwhile eating. Its is important here that you do not overcook the meat, as you want it to retain all of its natural succulence.
Pour enough olive oil into your frying pan to cover the base generously, and heat gently. Salt the steaks, add to the pan and shallow-fry for 5 minutes on each side, until browned but still rare.
In a separate small pan, warm up the extra virgin olive oil, peppercorns and rosemary over a love heat.
To serve, cut the steaks into 2cm strips. Arrange the steak slices onto four plates and drizzle over the peppery rosemary oil. Buon appetito.
This recipe is from
Antonio Carluccio's Simple Cooking