Pick-Me-Up Tiramisu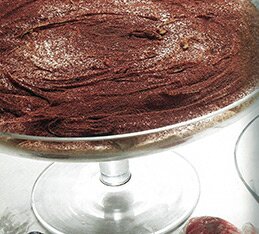 Serves Serves 4
1 egg yolk
1 tbsp caster sugar
1 tsp vanilla sugar
250g (9 oz) mascarpone cheese
175ml (6 fl oz) strong black coffee
1 tbsp coffee liqueur (Kahlua)
10-12 Savoiardi biscuits
1-2 tbsp unsweetened cocoa powder
This is one of my favourite desserts, made with that killer of a cheese, mascarpone. There are many recipes for tiramisu, which translated means 'pick-me-up' or 'lift-me-up', due obviously to the large amounts of calories – and caffeine! – in it. This recipe is my own version of the original.
Put the egg, sugar and vanilla sugar in a bowl and mix gently to a creamy consistency. Add the mascarpone and fold in to obtain a cream.
Put the coffee in a bowl with the coffee liqueur. Dip the biscuits for a second or two in the coffee mixture, letting them absorb just enough to keep firm but not falling apart. Starting with biscuits, arrange in four individual dishes alternating layers of biscuit and mascarpone. Dust with cocoa powder and put into the fridge to set and chill.
This recipe is from
An Invitation to Italian Cooking