Asparagus Timbale Torta di Asparagi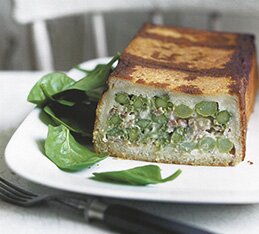 Serves 8 as a starter, 4 as a main course
1kg fresh green asparagus spears, prepared
salt and pepper
75g butter, melted
1 loaf of white sliced bread, crusts removed
2 eggs, beaten
200ml double cream
75g Parmesan, grated
60g Parma ham, very finely minced
freshly grated nutmeg
Cook the asparagus in salted water until al dente, about 7-8 minutes.
Butter a tin about 5-6cm deep and 30cm in diameter, using a little of the butter, then line it with the sliced bread, allowing it to go up the sides, and overlapping slightly. Place half of the asparagus on the bread. Mix together the eggs, cream, cheese, ham and remaining melted butter. Season with salt, pepper and nutmeg to taste, and pour half of it over the top of the asparagus. Add the remaining asparagus and pour over the rest of the mixture.
Bake in the preheated oven for 45 minutes, leave for a few minutes to set, then invert onto a large plate. Serve it like this, turned out 'upside down'. Cut it carefully into wedges using a serrated knife.
This recipe is from
The Collection