Baked Eggs with Black Truffle Uova in Tegame con Tartufo Nero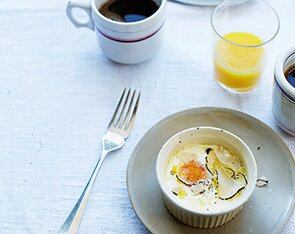 Serves 4
Per Person
½ tablespoon truffle butter
2 medium eggs
3 tablespoons double cream (heavy cream)
a few drops of truffle oil
Every year this is my little Christmas indulgence, baked eggs with truffles. The season of the black truffle is from around September through to February. It is not as intense in flavour as the white truffle, but it is delightful, and is not nearly as expensive as the white one – which is some sort of consolation. Should you be able to invest in a black truffle, shave it on top of the ramekin before serving. Lacking the real thing, you can use butter and truffle oil, which you will find in delicatessens.
Preheat the overn to 200 degrees Celsius
(400 degrees Fahrenheit / gas 6).
Grease four 7.5cm (3 inch) ramekins with truffle butter, then crack in the gees. Pour in the cream, then put it into the preheated oven for about 6-7 minutes, or until you see that the whites of the eggs have solidified, but the yolks are still runny.
Take the ramekins out of the over, pour a few drops of truffle oil on the top, and serve. It's a great breakfast of lavish first course.
This recipe is from
Vegetables by Antonio Carluccio