Linguine with Clams and Mussels Linguine Vongole e Cozze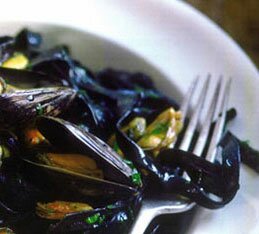 Serves 4
1kg mussels, cleaned
1kg small clams, cleaned
6 tbsp olive oil
100ml dry white wine
2 garlic cloves, finely diced
1 small red chilli, chopped (optional)
"You will find this dish in all the coastal towns and villages, most famously in the Laguna of Venice and on the Amalfi coast. It is the seafood pasta 'par excellence'. There exist two versions of the sauce: in rosso (with tomatoes) or in bianco (without tomatoes). I prefer the second, featured here, as you can appreciate the taste of the seafood much more easily."
For the sauce, put the mussels and clams in a large saucepan with the olive oil, wine, garlic and chilli – if using. Bring to the boil with the lid on and cook for a further 10 minutes before removing from the heat. Discard any mussels that haven't opened. Remove the meat from the shells (reserving a few for garnish) and keep to one side. Discard the empty shells.
At the base of the pan will be the sauce made of oil, wine, juices from the shells, garlic and chilli.
Divide between 4 plates, adding a few drops of extra virgin olive oil and the few remaining shell-on fish. Serve immediately.
This recipe is from
The Collection