Wild Mushroom Soup Zuppa di Funghi Misti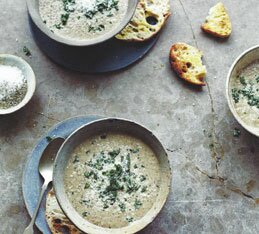 Serves 4
300g (10½ oz) wild and cultivated mushrooms, cleaned weight
10g (¼ oz)dried ceps (funghi porcini) , soaked in hot water for 20-30 minutes (save the water)
4 tbsp extra virgin olive oil
1 onion, peeled and finely sliced
½ tbsp. cornflour (cornstarch)
1.5 litres (2 ¾ pints/ 6 cups) chicken or vegetable stock
2 tbsp finely chopped fresh flat-leafed parsley
50g (1¾ oz) Parmesan, freshly grate
Salt and freshly ground black pepper
This is a very delightful soup, which I like best with lots of texture so I don't blend it. I make it usually with a mixture of wild mushrooms, but you can also make it with a mix of cultivated ones plus a little dried funghi porcini for favour. Whether wild or cultivated, this soup is warm, comforting and makes a lovely starter.
Finely slice the cleaned mushrooms. Chop the drained funghi porcini.
Heat the olive oil in a large saucepan and fry the onion for 10 minutes, until soft. Add the sliced mushrooms and the chopped funghi porcini, and fry for about 8 minutes. Then add the cornflour and stock, with the porcini soaking water, and mix well together. Simmer for about 30 minutes. Taste for seasoning.
Should you prefer a creamy soup, blend it in a food processor. (You could perhaps add a couple of tablespoons of double cream/ heavy cream.)
Serve sprinkled with the parsley and Parmesan.
This recipe is from
Vegetables by Antonio Carluccio