Bread and Garlic Soup Zuppa di Pane e Aglio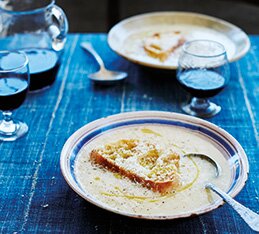 Serves 4
1.5 litres (2 ¾ pints / 6 cups) vegetable or chicken stock
100g (3 ½ oz) garlic cloves, peeled and finely sliced
300g (10 ½ oz) floury potatoes, peeled and sliced
salt and freshly ground black pepper
To Serve
4 slices of ciabatta bread
1 garlic clove, peeled and left whole
extra virgin olive oil
2 Tablespoons freshly grated Parmesan
A hearty soup such as this exists in some form or another in many countries across the world. It is a combination of simple, but flavourful, ingredients, and could be seen as a symbol of la cucina povera, poor but delicious food. In my opinion, a soup like this is one of the simplest but tastiest ways to enjoy minimalism.
Put the stock, sliced garlic and sliced potatoes into a large saucepan and bring to the boil. Turn the heat down and simmer for 30 minutes, or until both the potatoes and garlic are soft. Process in a blender until broken down and smooth, then add salt and pepper to taste.
Toast the slices of bread – or grill them. Cut the whole garlic clove in half and rub gently on the bread. Drizzle with a little olive oil.
Pour the soup into four bowls. Add the slices if bread on top of the soup, sprinkled with cheese, and serve.
This recipe is from
Vegetables by Antonio Carluccio