Acciughe Con Salsa Verde Anchovies with Green Herb Sauce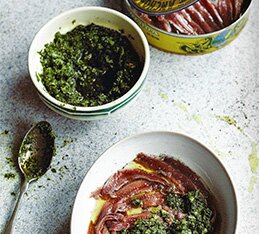 Serves about 450g (1lb)
300g (101/2oz) good anchovy fillets in olive oil, drained
Green Herb Sauce
400g (14oz) fresh flat-leaf parsley leaves
2 garlic cloves, peeled
2 pickled gherkins
1 small hot chilli, freshly chopped
A little white wine vinegar
50g (13/4oz/1cup) fresh white breadcrumbs
Extra virgin olive oil
This green sauce from Piedmont is based on parsley, and is used primarily in two ways: it accompanies bollito misto (mixed boiled meats) and anchovy fillets. The recipe below makes a batch that you can keep in the refrigerator for a couple of days. Serve as a starter with good bread, or as part of an antipasto.
Chop the parsley and garlic together extremely finely. Chop the pickled gherkins and chilli together, again very finely. Mix these ingredients together in a bowl.
Put some white wine vinegar into another bowl, add the breadcrumbs, and leave to soak for a few minutes. Squeeze the moisture out, then add the soaked breadcrumbs to the parsley mixture. Add just enough extra virgin olive oil to emulsify and make a thick sauce. Mix well.
Place a layer of anchovies at the bottom of a small porcelain dish. Top with a layer of salsa verde and continue until you finish with a layer of anchovies.
This recipe is from
Vegetables by Antonio Carluccio