Anatra Arrosto con Meline al Rafano Roast Duck with Crab Apple and Horseradish Relish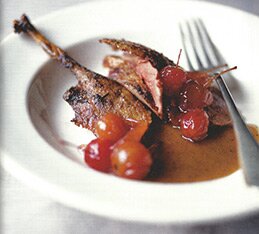 Serves 4
1 large wild duck or 2 smaller wild ducks, prepared for cooking
Juice of 1 lemon
2 sprigs fresh rosemary
4 tbsp olive oil
55g (2 oz) unsalted butter
1 tbsp balsamic vinegar
1 tsp cornflour, diluted in a little hot water
Salt and pepper to taste
To serve
4 tbsp Crab Apple and Horseradish Relish (see the Meline Al Rafano recipe)
This is when the Meline Al Rafano, the crab apple relish will come into its own! It combines very well with any kind of game, but it is ideal with duck, as duck is usually served with a similar sweet/sour sauce.
Preheat the oven to 180°C/ 350°F/ Gas 4. Sprinkle some lemon juice into the cavity of the bird(s), then season inside and out with salt and pepper. Place the rosemary in the cavity, then brush all over with the olive oil. Roast the smaller ducks in the preheated oven for 20-25 minutes until tender and juicy, the larger one for 40-50 minutes. Set aside to rest.
Add 2 tbsp water to the toasting juices in the roasting tin, and heat and stir to loosen the roasting residues. Transfer to a pan, and add the butter and vinegar, followed by the cornflour liquid. Cook for a couple of minutes, then strain.
Carve the duck(s), and serve on hot plates with the sauce poured over and the relish at the side. A good accompaniment is boiled potatoes.
This recipe is from
Antonio Carluccio Goes Wild