Aringhe alla Casalinga Cured Herring with Apples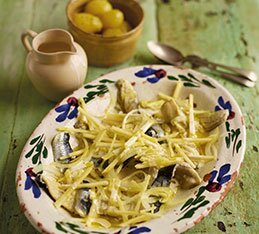 Serves 4
8 new potatoes
Salt
8 matjes herring fillets in oil
1 small onion, finely sliced
1 apple, peeled, cored and finely sliced
125ml double cream
This antipasto – which could also be a main course – comes from the north-east German speaking corner of Italy, the Südtirol or Alto Adige, where the Austrian influences are still felt. For it you need cured herring, not rollmops. Matjes herring are caught when very fat, marinated in a salt brine for a year, then filleted and kept in oil. They are a great delicacy.
Preserved fish
"Over the centuries, preserved fish have been extremely important to the Italian diet. The anchovy is probably the most significant: caught in the south, it is salted, canned, brined, made into an essence (colatura), boiled as sauce, and used in numerous dishes to add flavour and kick.
Baccalà and stucco, salted and air-dried cod, are a curiosity; although small cod are found in Italian waters and used fresh, the preserved fish have been imported for centuries. Herring are another northern fish, but much loved when salt-cured and smoked. Thin slices of salted, air-dried tuna, mosciame (sometimes swordfish as well), make a delicious, if expensive, antipasto; and bottarga, the cured roe of grey mullet and tuna, can be grated on pasta, rice or eggs to impart a delicate fishy flavour or eaten in slices."
Cook the potatoes in lightly salted water until tender. Drain, leave to cool and remove the skins.
Arrange the herring fillets on a serving platter and cover with the sliced onion and apple. Pour the cream over the top and serve with the boiled potatoes. Occasionally this dish is accompanied by a small glass of Schnapps, a dry liqueur tasting of plums.
This recipe is from
Two Greedy Italians Eat Italy