Cannelloni Ripieni di Funghi con Salsa di Taleggio e Tartufi Stuffed Cannelloni with Taleggio and Truffle Sauce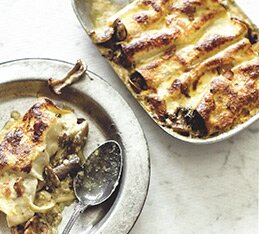 Serves 4
1/2 recipe fresh egg pasta dough
Salt pepper, to taste
A few drops of olive oil
Unsalted butter, for greasing
60g Parmesan, freshly grated
SAUCE
300g Taleggio cheese, cut into small pieces
50ml milk
2 medium egg yolk
A few drops of truffle oil (optional)
50g black truffle, very finely sliced
FILLING
20g dried porcini, rehydrated
60ml extra virgin olive oil
2 garlic cloves, peeled and finely chopped
A little chopped fresh red chilli, not too hot
700g mixed wild mushrooms, cleaned and cut into medium slices
ALTERNATIVES
You can use eight tubes of dried cannelloni, but you will have to cook these first before stuffing (follow the instructions on the packet). The sauce and filling above are vegetarian, but you could use a meat filling (one of ragus would do) with a different sauce on top (a white sauce, for instance), perhaps with some grated added.
Cannelloni are very large pasta tubes, which are cooked in water until very al dente, then stuffed with whatever filling is desired, along with a white or tomato sauce, and grated Parmesan. Then they are baked. It's one of the classic pasta al forno dishes, but the industry of ready-cooked meals has made me lose desire for it. Once on the train to Manchester, the dining car was offering cannelloni. I asked them to show me the packaging and it said that the contents could be kept for two years and still be edible! That's why I don't care for it much any more, apart from homemade.
Start the sauce first. In a medium saucepan, soak the Taleggio pieces in the mild for a few hours.
Preheat the oven to 180°C/ Gas 4. Soak the dried for the filling in hot water for 20 minutes, then drain and chop.
Heat the oil in a large frying pan and fry the garlic and chilli for a few minutes, but don't let them brown. Add the drained chopped procini and fry for 1 minute. Add fresh sliced mushrooms and stir-fry with a little salt until they are almost soft, about 5 minutes. Remove from the heat and set aside.
Roll the pasta out until 2mm thick, either by hand or in the pasta machine. Cut into eight 15cm squares. Plunge the pasta into a pan of boiling water with a few drops of oil and cook for a minute before draining and arranging on your work surface.
Divide the filling between the part-cooked pasta squares, arranging it along one end of each piece of pasta. Roll it up with the filling inside, and put in a suitable greased baking dish, join side down.
Put the cheese and milk for the sauce on a very low heat, and stir to melt the cheese into the milk to make a cream. stir the yolks in carefully, you want want them to curdle. stir in the truffle oil, if using, and the truffle, setting aside a few slices.
Pour the sauce over the cannelloni, sprinkle with Parmesan, pepper and top with the remaining truffle slices. Bake in the preheated oven for 20 minutes. Serve hot.
This recipe is from
Antonio Carluccio's Pasta