Clafutis di Lamponi e More Raspberry and Blackberry Clafoutis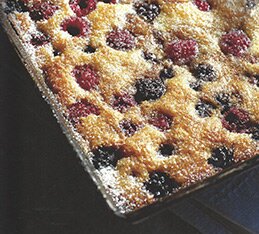 Serves 8
200g (7oz) raspberries
600g (1lb 5oz) ripe blackberries (cleaned weight)
8 medium eggs
300g (10½ oz) caster sugar
150g (5½ oz) plain flour
200g (7 oz) unsalted butter, softened
½ tsp baking powder or 1 sachet Lievito Bertolini Vanigliato (an Italian version)
It always give me great pleasure to create impromptu food which is good enough to be written down as a recipe. Fabrice and Valeria are two friends from Paris who were visiting us in the country. We had just picked some ripe and juicy blackberries and raspberries, and so I invented this extremely easy recipe for them.
Preheat the oven to 200°C/ 400°F/ Gas 6. After hulling the berries, briefly wash them.
You can either mix the sponge ingredients in a bowl or alternatively a food processor, which would take you half the time. Beat the eggs first, then stir in the sugar, flour and butter. Mix well, then thoroughly beat in the baking powder.
Grease a baking tin of 30x25cm (12 x 10 in) and 5cm (2in) deep with a little extra butter. Pour the mixture into the tin, then add the blackberries, followed by the raspberries. Bake in the preheated oven for 30 minutes, or until the centre of the cake is solid and not runny. You can serve the cake warm or cold, sprinkled with extra sugar.
This recipe is from
Antonio Carluccio Goes Wild