Cotoletta di Cinghiale Peperoni Agro Dolce Wild Boar Cutlet with Sweet and Sour Peppers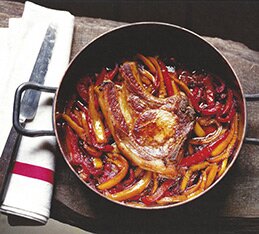 Serves 4
4 large wild boar cutlets
10 tbsp olive oil
4 yellow peppers, seeded and cut into strips
4 red peppers, seeded and cut into strips
3 garlic cloves, coarsely chopped
1 tbsp caster sugar
4 tbsp white wine vinegar
Salt and pepper to taste
Italians enjoy the meat of pig very much, whether wild or domesticated, and the marriage of this meat with the sweet and sour peppers makes for a very successful taste experience.
Fry the cutlets in the oil in a large pan over a medium heat for 10 minutes on each side, or until golden. Set aside and keep warm.
In the same pan and in the same oil, fry the pepper strips for 10 minutes, stirring frequently, then add the garlic and fry for a further 5 minutes. Add the sugar, vinegar and salt and pepper to taste. Stir well, then pour over the cutlets and serve immediately.
This recipe is from
Antonio Carluccio Goes Wild