Cozze Gratinate Mussel Gratin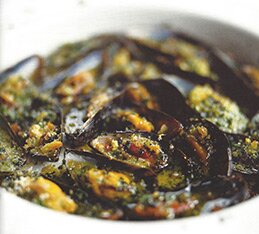 Serves 4 as a starter
1kg (2¼lb) mussels
4 tbsp extra virgin olive oil or 85g (3 oz) unsalted butter
1 garlic clove, finely chopped
2 tbsp finely chopped fresh flat-leaf parsley
2 tbsp dried breadcrumbs
Juice of 1 lemon
Salt and pepper to taste
These are ideal as an antipasto. They can be served warm or cold.
Clean the mussels very well. Preheat the oven to 200°C/ 400°F/ Gas 6. Place the mussels in a lidded pan with a few tbsp of water and bring to the boil. Cook until all the mussels are open, shaking the pan every so often (about 5 minutes). Let the mussels cool, then remove the top half shell. Loosen the mussel flesh in the remaining half shell. If they have shrunk too much, put 2 mussels in each half shell.
If using butter instead of olive oil, then mix this with the chopped garlic and parsley. Line the mussels up on a baking tray and, if using the garlic butter, just smear it on top, then sprinkle with the breadcrumbs. If using the oil, mix it with the garlic, parsley and breadcrumbs and sprinkle on top of the mussels. Season, and bake for 5 minutes in the preheated oven until the breadcrumbs are golden and crisp. Squeeze over the lemon juice and serve.
This recipe is from
Antonio Carluccio Goes Wild