Culurgiones Pleated Sardinian Raviolo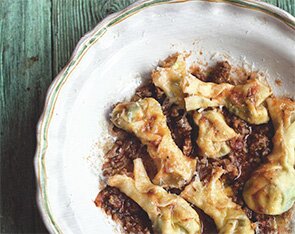 Serves 4
1 recipe fresh egg pasta (see my recipe)
salt and pepper, to taste
60g pecorino cheese, freshly grated
Filling
30g unsalted butter
200g spinach, blanched, squeezed dry and finely chopped
300g fresh ricotta cheese
2 medium eggs, beaten
80g pecorino cheese, freshly grated
1 sachet powdered saffron
A pinch of ground cinnamon
Sauce
50 ml olive oil
1 small onion, peeled and finely sliced
120g minced beef
120g minced lean pork
50ml dry Vernaccia white wine
500g canned crushed tomatoes
2tbsp finely chopped fresh flat leaf parsley
1 tbsp finely chopped fresh sage leaves
Every region has some sort of stuffed pasta on the menu, which is often made to order to use up leftovers. Sardinia has a different kind of stuffed pasta, a so-called ravioli whose filling can vary from potato to cheese. Also known as Culurgiones (and a number of other names), these ravioli even look different from those other regions. They are delightful anyway, despite the fact that a little more work is involved.
Make the filling by melting the butter in a wide pan, and frying the dry squeezed spinach for a few minutes. Let it cool, then add the ricotta, beaten eggs, grated pecorino, saffron and the cinnamon. Season with salt and pepper to taste, ad work everything thoroughly together to a well-mixed paste.
Meanwhile, make the sauce. First of all, heat the oil in a large saucepan and fry the onion for about 5 minutes to soften. Add the two meats and brown a little, about 5 minutes, then add the Vernaccia followed by the tomatoes, parsley and sage. Cook slowly for 30 minutes, then taste for salt and pepper.
Menawhile, roll the pasta dough out thinly, by hand or machine, to 1mm thickness. Make and fill the culurgiones. Cut into 8cm circles, and put one in your non-working hand. With your thumb, pinch a fold of dough over from the bottom to cover the filling, and then fold over alternatively from left to right to give a pleated effect. Pinch in at the centre as you go, to seal the ravioli, and seal the top with a final pinch. The end product looks slightly pear shaped.
Cook the pasta in plent of boiling salted water for 4 minutes or until al dente. Drain, mix with the sauce and serve with sprinkles pecorino.
This recipe is from
Antonio Carluccio's Pasta