Fagioli Grassi Stewed Fat Beans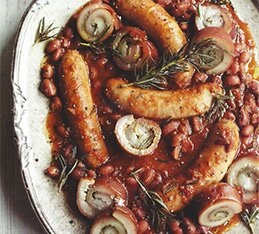 Serves 4-6
2 tablespoons extra virgin olive oil
2 large onions, peeled and coarsely chopped
300g (10½oz) dried borlotti beans, soaked in cold water for 24 hours
4-6 pieces of pork belly skin, each about 12-16cm (4½ – 6 inches), fat removed
3 sprigs of fresh rosemary
Freshly grated nutmeg
1 small bunch of fresh flat leaf parsley, chopped
6 pork cooking sausages
2 tablespoons tomato purée
Salt and freshly ground black pepper
This is a filling winter dish which is served as a carnival food in Ivrea, a town in Piedmont, near to where I was brought up. The carnival takes place around the middle of February, before lent, the lean Christian month that lasts until Easter. Historically, the rich used to give beans and grain to the poor people at this time and allow them the use of ovens. They are called 'fat beans' because of the ingredients with which they are cooked (all that pork skin). The beans are very tasty and extremely nutritious, but perhaps not for the fainthearted.
In a large saucepan, heat the olive oil to medium, and fry the onions until softened, about 10 minutes. Drain the beans and add them to the onions with 2 litres (3½ pints/8 cups) of fresh cold water. Bring to the boil and boil for about 10 minutes.
Lay the pieces of pork belly skin on a clean work surface, and sprinkle each with the needles from 2 of the rosemary sprigs, the black pepper, nutmeg and parsley. Roll up the sausage, away from you, and secure three or four times with pieces of butcher's string. Add these little rolls to the beans, and cook at a simmer for 2 hours.
Now add the sausages, tomato purée, and the final sprig of rosemary, and cook for another hour. Test to see if the pork skin and beans are soft; if not cook for a little longer.
Add a little water if too dry, and some salt and pepper if required. Cut the pork belly skin rolls into slices, the sausages too if you like, and eat everything warm
This recipe is from
Vegetables by Antonio Carluccio