Fagiolini Con Agnello E Pere Lamb stew with pears and green beans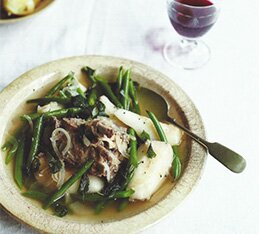 Serves 4
2x 500g (1lb 2oz) meaty lamb necks, still on the bone
4 garlic cloves, peeled and chopped
2 small onions, peeled and sliced
400g (14oz) green beans, topped and cut in half
4 large firm pears, peeled, quartered and cored
1 small sprig of fresh oregano
salt and freshly ground black pepper
This is a recipe I adapted from a German recipe called Birnen, Bohnen und Speck, where I substitute neck of lamb for pork belly. It is a really remarkable combination of lamb, vegetables and fruit.
Put the lamb, garlic and onions into a heavy saucepan large enough to contain them, and cover with cold water. Bring to the boil, then turn down the heat and simmer gently until you see the meat separating from the bone. This should take about 1½ – 2 hours.
If there is any fat on the top of the stew, spoon it off and discard.
Add the beans, along with the pears and oregano, to the stew. Season with salt and pepper to taste, and cook until the pears are solf, about 15-20 minutes.
Serve the meat, beans and pears with a little of their stock. Some plainly boiled potatoes would make a good accompaniment.
This recipe is from
Vegetables by Antonio Carluccio