Fiori di Zucchini Ripieni Stuffed Courgette Flowers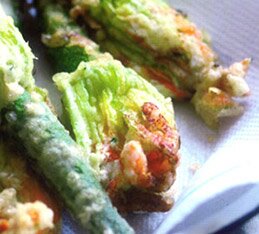 Serves Serves 4-6
12 courgette flowers, courgettes attached
Olive oil for shallow frying
Stuffing
125g (4 1/2 oz) mascarpone cheese
6 tbsp fresh breadcrumbs
1 whole egg and 1 yolk
3 tbsp freshly grated Parmesan cheese
2 tbsp finely chopped fresh chervil
1 tbsp finely chopped walnuts
Salt and pepper to taste
Batter
1 whole egg and 1 egg white
60 g (2 1/4 oz) plain white flour
5 tbsp cold water
A pinch of salt
There are two ways of cooking courgette flowers, either fried in batter as they are, or stuffed and then fried. Fiori di zucca, pumpkin flowers, are often used in regional cooking, but unless you have pumpkin plants in your garden, they are difficult to come by. In the trade, because they have become a 'classic' in the cooking of many cuisines, courgette flowers are now supplied so that they are not quite so rare any more. In fact, it is easier to find the small courgettes with the flowers still attached, and this is what I suggest you use. If you get the flowers from your garden, check very carefully to see that there are no insects in them.
Mix together the mascarpone, breadcrumbs, egg and egg yolk, Parmesan, chervil, walnuts, and salt and pepper to taste until you obtain a smooth mixture. Pipe into flowers, and close the flower around the mixture.
Make the batter by beating everything together. Dip the stuffed flowers into the batter, and let any excess drip off before frying until brown on each side in moderately hot olive oil. Put on absorbent paper to drain before serving hot.
Serve two flowers each as a starter for six people, or three each as a main course for four.
This recipe is from
Antonio Carluccio's Vegetables