Gnocchi Verdi al Pomodoro e Mozzarella Green Gnocchi with Tomato and Mozzarella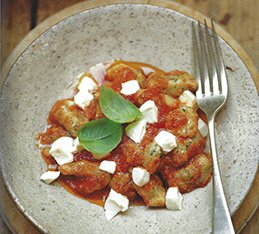 Serves 4
500g mashed floury potatoes
110g plain flour
200g spinach, cooked, squeezed dry and very finely chopped
1 egg
Salt and pepper
40g Parmesan, freshly grated
150g buffalo mozzarella, cut into small cubes
TOMATO SAUCE
1 garlic clove, peeled and finely chopped
6 tbsp olive oil
500g canned chopped tomatoes
6 basil leaves
In a way this simple, yet delicious dish can be seen to represent the colours of the Italian flag- green, red and white.
Make the gnocchi by mixing together the potatoes, flour, spinach and egg, adding more flour if the dough is too wet. Season lightly.
Make the simple tomato sauce by frying the garlic in the olive oil until soft, a few minutes. Add the tomatoes, basil and some salt and pepper, and cook for 2o minutes.
Cook the gnocchi as per the Basic Gnocchi recipe. When ready, drain, then add the sauce, Parmesan and some pepper, and mix well.
Divide the gnocchi between the plates, sprinkling over the mozzarella cubes and some more basil leaves to finish.
This recipe is from
Antonio Carluccio's Simple Cooking