Insalata di Couscous Cous Cous Salad with Raw Vegetables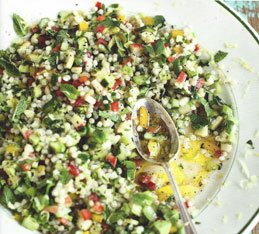 Serves 4
200g dried giant couscous
Salt and pepper, to taste
1 tbsp extra virgin olive oil
SALAD
2 celery stalks
1 red pepper
1 yellow pepper
¼ cucumber
4 spring onions
4 asparagus spears
½ avocado
1 apple
1 pear
Good handfuls of fresh mint and parsley, very finely chopped
60ml extra virgin olive oil
Juice of one lemon
ALTERNATIVES
Ready-made fregola could be substituted for the couscous and the salad, with its mixture of vegetables, it makes a delicious filling for Greek vine leaves.
This is a delightful summer salad to be eaten in summer or spring, when vegetables are at their freshest . It makes use of a larger-than-life couscous, which in Hebrew is know as 'ptitim', and everywhere else as Israeli, pearl or giant couscous. It is made from hard wheat, and was originally shaped into pellets, though it is now available in different shapes such as heart and stars, which are very popular with children.
Cook the couscous in advance so that it can cool. Cook in plenty of boiling salted water for 12-14 minutes or until al dente (follow the instructions on the packet). Dress with the olive oil, then leave to cool.
Now you need some patience. After cleaning your vegetables and fruit, cut them all into cubes, just slightly larger than the couscous. Mix them and add the herbs into the cooled pasta. Add the olive oil, lemon juice, salt and abundant pepper, mix well and enjoy.
This recipe is from
Antonio Carluccio's Pasta